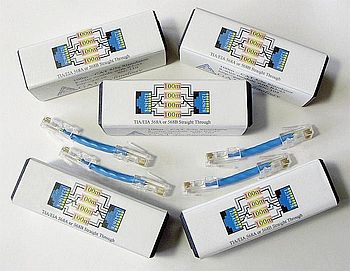 GAJ Technology is a leading designer, manufacturer and marketer of innovative, affordable and reliable wireline and cable simulation solutions for the worldwide telecommunications market.
Our CAT5/5e, CAT6, ADSL, VDSL and other cable simulators are perfect for testing routers, DSLAMs, network cards or any device that use CATx and xDSL cables, quickly, reliably and inexpensively, and to provide a proof of compliance for any telecommunication equipment.
GAJ Technology's wireline and cable simulators, emulate the electrical characteristics of CATx and xDSL cables, of various gauges and lengths, including insertion loss, return loss and impedance, based on international standards such as ANSI/TIA-568 (Commercial Building Telecommunications Cabling Standards) and ISO/IEC 11801 (Generic cabling for customer premises).
Our small "match box sized" simulators can be quickly daisy chained to simulate incremental lengths of CATx twisted pair cable.
Our rack mount case units is perfect for testing multiple devices simultaneously in the production and testing departments, available in various gauges and lengths.